Track Pants –

Where Style Meets Comfort
When we buy any piece of clothing, we want it to be comfortable and stylish. Something that you will like to wear, anytime. One such comfortable bottom wear option for men is track pants. It is cool, it is comfortable, and you can wear it for that run in the morning and evening at home when you want to relax. It is this unmatched comfort, which is the primary reason behind the growing popularity of track pants. The use of tracks is not only restricted to fitness wear. Coming in different prints, patterns and colours you can have a separate collection for the workout, home and casual evening wear
Tracks -

Your Fitness Companion
The birth and popularity of tracks are associated with the fitness industry. Whenever you plan to buy clothes for the gym, a comfy track and tee is the first thing that comes to the mind. Not just for the gym it is almost a staple wear for every kind of fitness activity. Whether you work out alone or in a group, a comfortable fitness gear is a pre-requisite. Even style becomes essential when you work out in a group. Of course, you don't want to wear an old, tad tee with a worn-out track. So, buy stylish workout clothes and with a relaxed fit is a must.
When you do that stretch before the morning run, it should be a comfortable one. Likewise, when you have to choose a track for your cyclothon, it needs to be flexible, comfy and sweat-wicking. It should be such that you can keep going strong and long, something that will facilitate the last leg of the cyclothon. When you choose a track pant for your athletic wear collection, it should be a comfortable fit, which will aid your performance. So, for your active lifestyle, you should invest in several pairs of track pants and have ample options to spoil you every day. A motivating gear is a must to get you out of bed every morning and have you going.
Tracks for Athleisure Wear
Thanks to the comfy factor, track pants are also a preferred form of athleisure wear for men. People like to wear it outside the gym, at home and for those casual evenings with friends and family. When it comes to buying tracks for casual wear, you can give style the precedence. Explore options in different colours, patterns and makes, and give a colossal makeover to your wardrobe. You should lounge in style while experiencing unmatched comfort.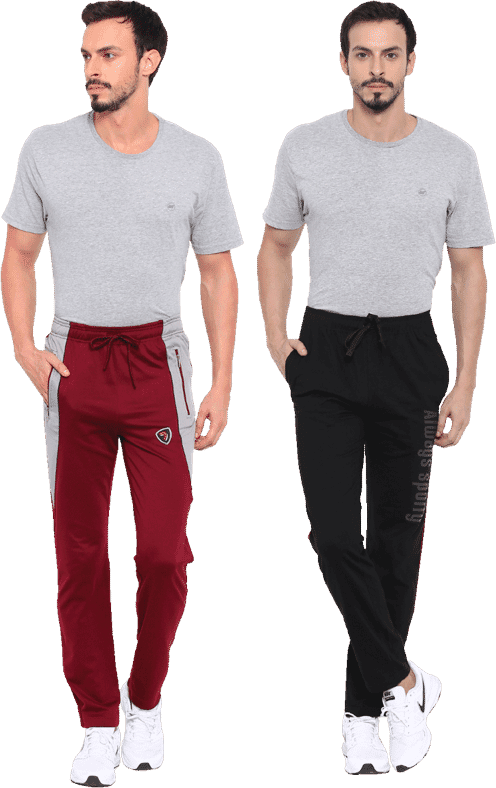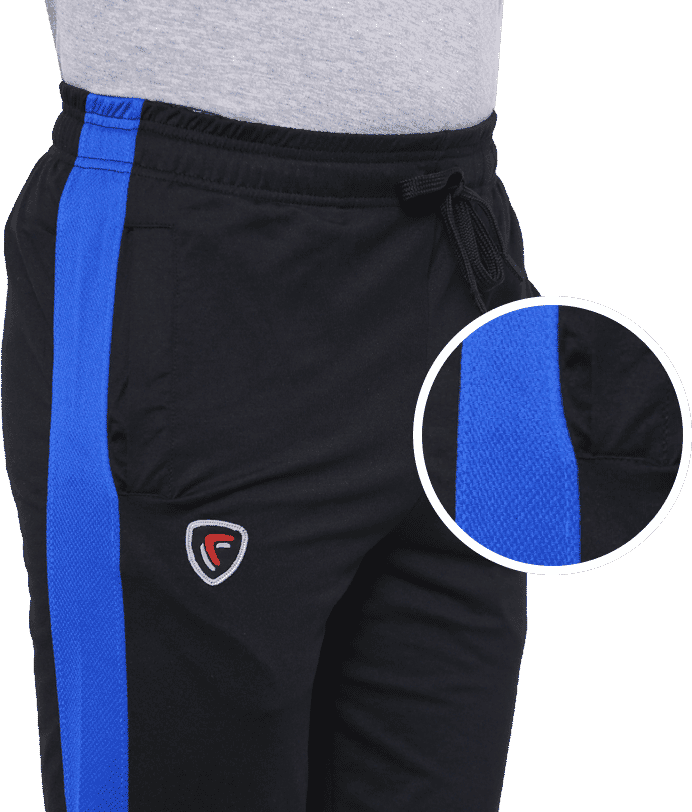 Cotton Comfort in your Tracks
When it comes to choosing your tracks for athleisure wear, cotton ones can be your go-to option. Nothing beats the comfort of cotton, and it is for this reason that it remains everyone's preferred style. Team it with a t-shirt and get going for that cricket match with your friends. Track pants is one option, which is ideal when you wish to laze and play. Wear it for casual settings like lounging at home or in a hotel room, or for a light exercise. Jogger pants can be perfect when you need to run around and manage many chores over the weekend or just to laze and rest at home.
Play Unperturbed in
Polyester Mix Tracks
Of course, cotton makes a great choice as casual wear, but when it comes to choosing your fitness wear, opting for a cotton mix with polyester can be wiser. They are sweat-wicking, wrinkle-resistant and durable, something that stays as is even after multiple washes. This kind of workout clothes remains a preferred choice for athletes, gym goers and sportsmen. Even for the fitness buffs, this one should be the go-to-option whenever they are indulging in a moderate or highintensity workout.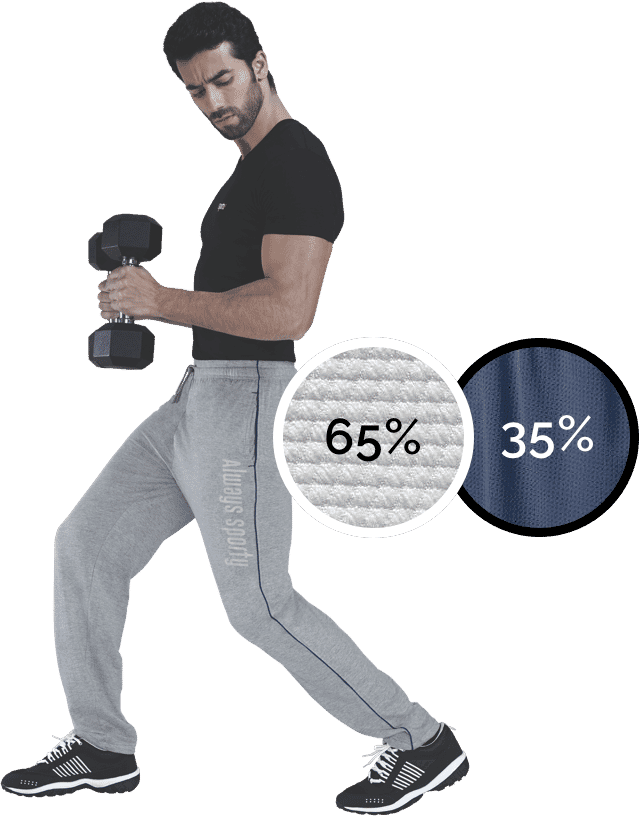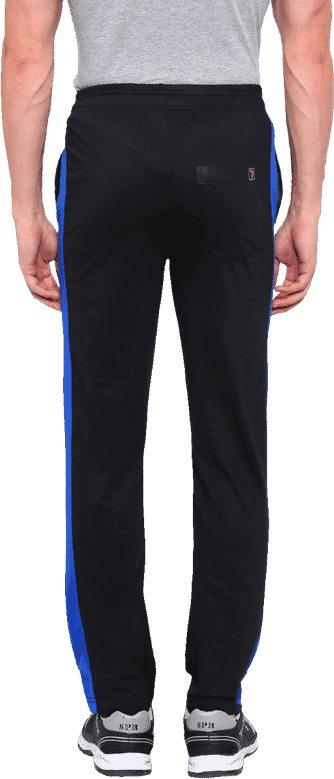 The Fit Does Matter
Along with the different makes, when it comes to choosing a pair of sports track pants, the fit matters. This clothing line is gaining popularity for the comfortable fit that it offers. Though most of the tracks have a relaxed fit, being baggy from the top and tapering from the bottom, but slim-fit options are also available. So, if you like wearing tracks as an evening wear option, then such slim-fit ones can be ideal. Besides, there are also low-waist ones that are trending big. If style matters along with comfort, then you should explore the low-waist, slim-fit options. Such low-waist ones are also apt for those who prefer their bottom wear to sit below the navel.
Design Options Are Many
The way you will have much to explore in terms of fit, there are many different design options, as well. Some track pants come with side zip pockets, while others have only simple pockets. Men's track pants with zipper pockets come useful for fitness enthusiasts. They can easily slide in their MP3 or iPod and listen to their favourite music while working out. Of course, everyone is aware of the benefit of listening to music while exercising. Besides, you can also stash inside some, small accessories in these track pockets. Such tracks with pockets also come useful when at home. You can easily keep your phone, keys or some money handy in this pocket. Likewise, for the design element, you can explore tracks with motifs, brand patches and logos.
To enhance the shelve life of these sweatpants for men, some come with an adjustable drawstring. Pull the string and adjust as per your convenience. When you opt for such tracks, you can wear them for a long time to come. In addition, some of them come with seam stitch to enhance its shelve life.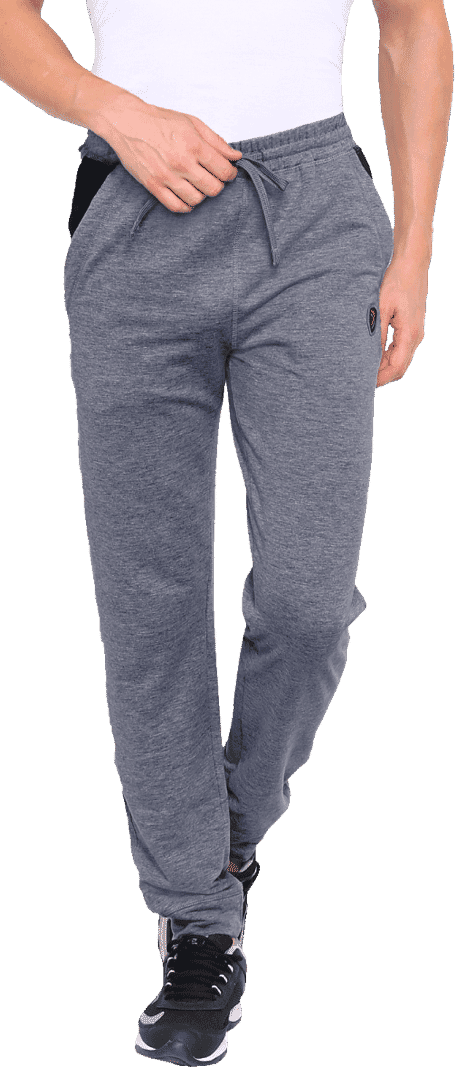 Make a Style Statement with a
Pair of Tracks
Track pants are no longer only for sporting purpose. They have entered the world of fashion and are preferred casual wear. You can see celebrities wearing it in public and showing-off their cool site. People are seen wearing designer tracks in airports, restaurants and high-profile events, where they were a strict no-no in the past. So, you too can define a unique style statement with a trendy pair of tracks. Wear a soft colour track with a bold tee and enjoy an easy makeover. To add some glamour, add a layer of jacket or wear a hooded-jacket with your tracks. Buy well-designed, best men's sweatpants to flaunt a relaxed and chic statement. If you like to keep it more towards a formal side, then go for velvet, satin or silk track. These are apt for social events like informal-get together and long flights. Keep some pairs in your collection and manage your social calendar with ease.
Get Spoiled with Track Choices!
With track pants coming in so many different fabrics, prints and designs, you can easily pick your style and wear something that matches your style and suits your personality. A versatile lower for men you can have a separate collection for workout and casual wear. If you want to make such a diverse collection, then there are plenty of options at Sporto. There are men track pants made of rich cotton and absorbent single jersey fabric, which can provide the comfort and help you stay dry for long, even while performing intense workouts. Adding to the style statement of these tracks is the logo patch on the back pocket, contrasting side piping and prints on the side seam. Besides, for enhanced comfort, there is also an elasticized waistband with flat drawstring. So, you can adjust the drawstring for better comfort and support.
The tracks at Sporto can provide you with superior style and absolute comfort. There are different pattern options and an array of colour choices. You can choose the style that best suits you and add different colours to your wardrobe. Moreover, these stylish track pants are also easy to maintain. You can machine wash them and have them ready to be worn. These tracks are 65% cotton and 35% polyester making their maintenance easy and ideal as a fitness gear. If you want to work out in style and experience the comfort, then give Sporto track pants a try. The right set of workout wear helps to perform the best and for a longer span of time. The Sporto tracks are pure functionality and absolute comfort. The cotton-polyester blend is perfect for daily run, strength and stamina training and high-intensity workouts. Go ahead and make your sportswear collection with Sporto polyester track pants.
Sporto Tracks for Everyday Wear!
Along with this kind of sports collection, there sports track pants are perfect for daily wear too. The 100% cotton make provides unparalleled comfort, and enhancing their durability factor is the seam stitching. Feasible and practical designs experience the ease and comfort with these Sporto track pants. Some of them come with dual pockets, one with a zip too, which comes useful in sliding your valuables while working out. The best part about these Sporto tracks is that they are designed in keeping with international designs and patterns. So, whether it is taking that leisure stroll around or a game of cricket, you can wear these tracks and walk in style.
Track pants serve a dual role. They can be your go-to-wear for lazy and workout days. Check the range mentioned above and explore the different types of track pants for home and casual days. Team them with your flip-flops or pair of sneakers and define your style. These are also handy holiday wear as they can provide the comfort and protection from mosquitoes. Not only are tracks perfect for winter wear, but they can be ideal during the monsoon season, as well. It can provide protection from nature during winters and mosquitoes and insects during the rainy season.
Start Making your Collection, Now
With so many options online, you can start exploring the collection of such athletic clothing by Sporto and shop from home. Once you browse the collection, you can check the delivery code for the tracks you like. By putting the delivery pin code, you will get a delivery estimate. After that, you get the option of add to cart or buy now. If you want to purchase later, then add to cart otherwise click on the buy now, process the payment and your tracks will be delivered at your doorstep.
Once you decide on the men's sweatpants with pockets, to complete the pair, you can also view the T-shirt collection at Sporto. You can check the different t-shirt options coming in different necklines, colours, and patterns. You can check the complete range, choose the one that best goes with the new tracks and have a whole new workout and casual wear wardrobe for yourself.
Wearing the right set of clothes for that class of yoga is just as important as wearing the right formal wear for work. The way you dress-up make a world of difference to your attitude, confidence level and how people look up to you. So, invest in the right workout wear, hit the gym with confidence and give your best performance, every day. Let your gym wear be your motivating factor, something that you would like to wear every morning in which you set a new record, every day. Likewise, even while chilling at home with friends and family, dress appropriately and feel free and comfortable, while lazing around. So, shop the tracks you like and give yourself a makeover you deserve.
Versatile Track Pants By Sporto
Before you buy tracks for men, you can check the delivery options by entering the pin code. You will get an idea of the approximate delivery date. After that, you can add the product to the cart, process the payment via the different gateway options and your T-shirt order is placed. However, if you are confused or wish to take an opinion from a friend, then you can add the product to wishlist or share using different messaging platforms. However, if there is any confusion pertaining to the product even after ordering our customer care is there by your side. You can email us at [email protected] or call at +91 9901117000, and we will have your query addressed. There are also some exciting offers on our product lines from time to time; you can learn more about it from the website and make the most of the offers while placing your orders.